DOOMDOGS welcome you to a land of Doom/Stoner/Sludge Metal music !!!
ENJOY  !!! ...quote - "the overall quality of the songwriting and the track "Dogs of Doom" alone will make you stamp your feet and grab the nearest joint".. - "Olivier 'Soltar' Badin" - TERRORIZER MAGAZINE"...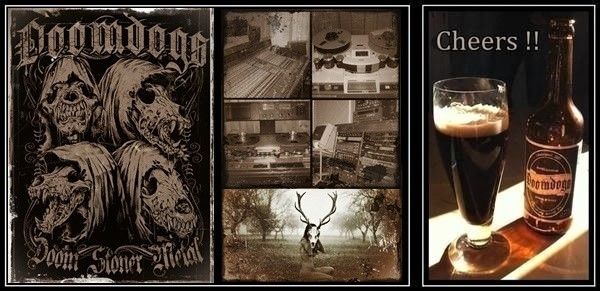 DOOMDOGS latest recording - "Those bloody voices"
(here with vocalist Paul Nannen, bassist Johannes,
current drummer Anders, and  Christer - Doomdogs 
guitarist and founder) !!

                  Click HERE to check it out on YouTube 
---
.."this band from Gothenburg have really got  
their chops down", "the songs are insanely  
infectious", "the band is very sabbathy in places,  
bluesy in a Cream kind of way in other passages,  
and progressive with an early King Crimson  
kind of feel elsewhere but the main element is stonerish,  
doomy rock", "the songwriting is excellent", "the Sabbath 
cover is almost worth the purchase price alone".. 
'Ed / DOOMMANTIA' 

.."great work from a group that deserves to be known  
by the general public because they have huge potential".. 
'Peppe Doronzo / RAW & WILD HEAVY´ZINE' 

.."I would highly recommend this to fans of  
stoner, sludge and doom", "it deserves to  
be heard by new listeners", "in conclusion,  
a great album from Doomdogs".. 
'Lee Gilroy / Feedback Magazine'

.."the four guys from Gothenburg take 
 us on a journey from the valley of Stoner  
grooves through heavy Doom riff country  
and right to a river of psychedelic 70s rock".. 
'Thorsten Frahling / Cosmic Lava'

.."a seventies sound with some brisk thunderous stoner elements
- so if you wanna know how Orange Goblin would have sounded
in the seventies, go listen to DOOMDOGS"..
'Nico / HELL SPAWN'   
DOOMDOGS "N.I.B." Live - opening for CANDLEMASS
(here with Doomdogs former vocalist "GG", bassist Patrik, 
drummer Emil, and Christer - Doomdogs guitarist and founder 
...at Sticky Fingers in Gothenburg)                  
 Click HERE to watch it on YouTube 
---

.."Doomdogs live on stage are  
a high-energy f***ing Force Of Nature" ... 
'Thomas Olsson / Swedish Metal Awards'

.."In short, if you like old-fashioned Doom/Stoner
with good quality in the compositions - DOOMDOGS
will meet all those parameters"... " 
'Sergio Fernández / Queens Of Steel'

.."DOOMDOGS - following SABBATH's Mega tunes and
with MOTORHEAD's bad-ass rock 'n' roll attitude"..
'Maria Voutiriadou / Metal Temple'

.."DOOMDOGS are the secret of genius and talent that have
been able to project the understanding of classic Doom"..
'NOIZZ Webzine'

.."DOOMDOGS have a very fine sense of melody and
sophisticated song structures in their own infallible unique way"..
'Warmaster / METALMASTERS'

.."DOOMDOGS unleashes a doom metal hell by telling a truth
never told before in such a brilliant manor - at any rate a keeper
- check them out"..
'Georgia Bootsali / HeavyMetalCosmos'
 
DOOMDOGS NEWS 
Here's the new badass "Doomdogs custom artwork piece" for inter alia t-shirts and promo stuff   (designed by the awesome Maggotmeister of AllThingsRotten - 
click here to check out some of his awesome art pieces) !!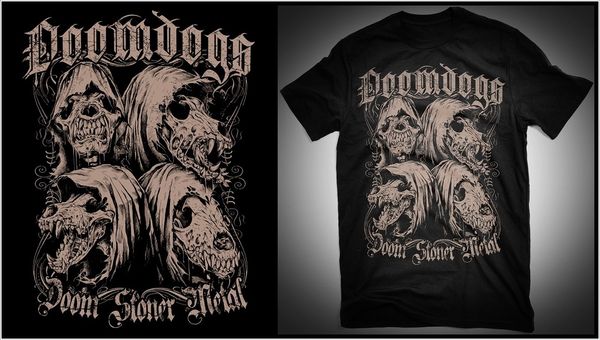 Writing of new Doomdogs-material in the works !!!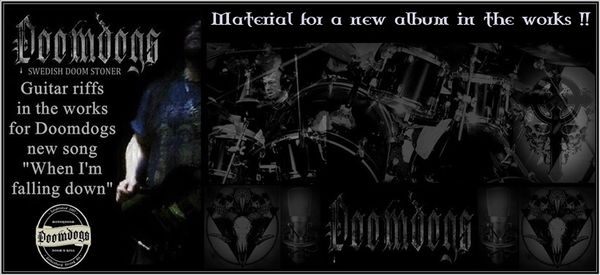 The lyrics to "When I'm falling down" 
(one of the new Doomdogs-songs in the works)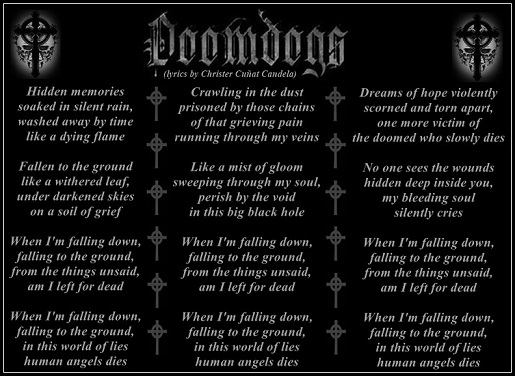 CHECK IT OUT 

Now you can get DOOMDOGS FULL DIGITAL DISCOGRAPHY (high-quality downloads) 25% OFF !! ...all 4 Doomdogs releases for 77,25 SEK = approx 8,8 USD, 8,35 EUR (today's, nov.30 - 2015, exchange rate) at Doomdogs Bandcamp (just click on anyone of Doomdogs albums and you'll see the info) !!! 
Click "here" to get to DOOMDOGS BANDCAMP !!! 
DOOMDOGS albums : 
"Those bloody voices" (Single - new track, 'digital' released Sept. 2015 ) 
"DoomDogs" (6 tracks - Doomdogs self-titled debut album, released on Vinyl LP, CD and CD Digibox) 
"Unleash The Truth" (13 tracks - Doomdogs second full-length album, released on double Vinyl LP, CD and CD Digibook) 
"Doomdogs / War Injun - Split 7inch"  (released on 7" Vinyl) 
 
"Those bloody voices" - new song released with Doomdogs '2015' band line-up (Single, digital release, September 2015)
(click on pic to listen)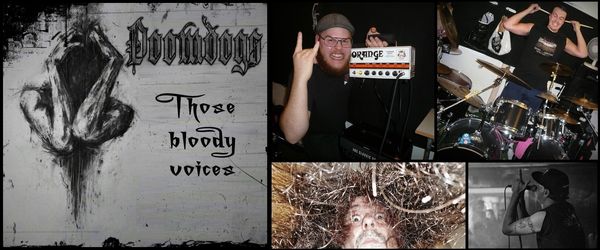 ---
---